Plant pansies, violas and snapdragons in mid-October for  fall and winter color. Ornamental kale, parsley, red mustard and Swiss chard are other great choices for containers and flower beds this time of year.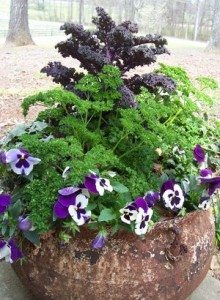 Fruits and Nuts–Planting season for strawberries starts in South Alabama. Clean up orchard areas.
Shrubs–Shrub plantings can be made. Water when needed. Note varieties of camellias in bloom. Mulch shrubs that do not have mulch.
Lawns–Continue to mow lawns until no new growth is noticeable.
Roses–Continue insect and disease control practices.
Annuals and perennials–Visit flower shows and gardens. List desirable varieties of mums. clean up flower beds immediatlely after killing frost.
Bulbs–Plant tulips, hyacinths, daffodils,, crocuses, Dutch irises, anemones, and ranunculuses. Watch planting depth. Dig caladiums; clean and store in warm place.
Miscellaneous–Renew mulch around shrubs and rose beds. Loosen mulches that have packed down. Spray with oils before freezing weather to control insects. Remove all dead stems and trash from flower beds. Transplant into small pots any cuttings taken earlier.
Vegetable Seed–Plant turnips, mustard, kale, rape, spinach, and onion sets.
Source: Alabama Cooperative Extension System
Alabama Gardening Calendar