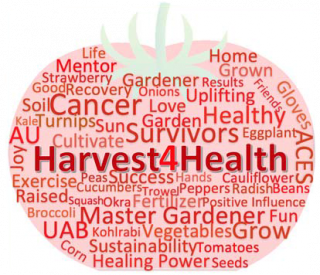 Led by the University of Alabama Birmingham's, Comprehensive Cancer Center and Alabama Extension's Homes Grounds Team, Harvest for Health used a backyard garden to teach new, healthy habits to cancer survivors. Extension trained Master Gardeners Volunteers mentored the cancer survivors to learn vegetable gardening.
The initial study's results showed cancer survivors ate more vegetables, improved their strength and flexibility, were more motivated to daily exercise, and had other positive health indicators. Partially funded by the National Cancer Institute, 2017-2022, we look forward to sharing the results of this studies health benefits in fall 2023.
[Note: Anyone considering a new exercise practice should first consult their health-care provider. This is especially important for seniors and people with a weakened or compromised immune system.]
Program Materials
Alabama Cooperative Extension System (ACES) Publications
The Alabama Cooperative Extension System provides a substantial information packet to each participant and mentor in the project.
Other Documents
Harvest 4 Health – Vegetable Harvest Calendar
Harvest 4 Health – Spot-Color Flyer
Harvest 4 Health – Study Participant Eligibility Map
Harvest 4 Health – Healthy Recipes Cookbook
Videos