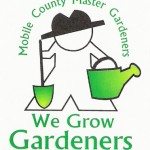 The Mobile County Master Gardeners are proud to announce their newly formed Speakers Bureau.
The Speakers Bureau provides public presentations; deliver research-based information to various community organizations in Mobile County and surrounding areas. We invite requests from garden clubs, public libraries, schools, churches, business organization and neighborhood associations.
We provide speakers on a wide variety of topics including:
Water Smart Landscape Design
Community Gardens
Basic Gardening and Landscaping
Smart Yard, Healthy Gulf: Nutrient Reduction/Fertilizer Use Program
Shade Plants
Roses
Historic Photographs of Gardens in Mobile County
General Gardening Guidance
English Style Gardens
Hydrangeas
Eclectic Gardens and Garden Ornaments
Budget Gardening Methods
Garden Tool Maintenance
How to Get the Most Out of a Small Garden Space
Native Trees and Shrubs for Coastal Alabama
Introduction to the Master Gardeners Program
Gardening in Small Spaces
Color Changes in Your Garden
Grocery Store Botany (An Edible "Lab" about Where We Get Our Food)
Vegetable Gardening in Coastal Alabama – Tips From Personal Experience
Growing Herbs on the Gulf Coast (aka Herbs 101)
Cooking with Herbs
Herbs for the Holidays (decorating and gifts using herbs, mainly aimed at Christmas)
Container Gardening with Herbs
Container Gardening

Raised Bed Gardening

Composting
Perennials for the Gulf Coast
Shade Gardening
Roses: Antique and Old Fashioned Shrub Varieties
Going Tropical with Gingers
Gardening with Bulbs
Lawn Care
Christmas Greenery
Butterfly Gardens
To request a speaker for your organization, contact the Alabama Cooperative Extension Office (251) 574-8445.
Contact
Diane Anthony
1070 Schillinger Road North
Mobile, AL 36608
251-574-8445