Become A Master Gardener!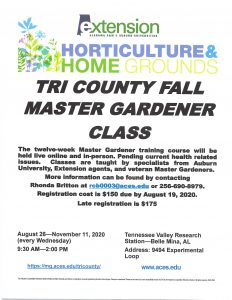 The Alabama Master Gardener Program is provided and administered by the Alabama Cooperative Extension System. It is an educational program to train and certify individuals who, in turn, volunteer their expertise and time in support of the Cooperative Extension effort as well as organizations that foster horticultural science and best practices in local communities.
The 13-week Tri-County Master Gardener Course is offered twice annually for individuals living in Madison, Morgan and Limestone Counties of Alabama. If you live elsewhere in Alabama and are interested in a course near you, visit this site and contact your county Extension Office. The cost of the course is $150 and includes all study materials. For course details and map to the Belle Mina Station Research Station off Mooresville Road visit the Tri-County Course Website.
Tri-County MG Training Course
Two sessions are offered each year. Beginning in February will be a day class and beginning in August, an evening class. The classes will meet each Wednesday at the Belle Mina Research Station in Limestone County. Some classes might be at the Madison County Extension Office and some at the Huntsville Botanical Garden.
Ready to Apply? Click here to view and download the application form.
Finished your Application?
Mail or drop off completed, signed applications to , Regional Extension Agent
Madison County Cooperative Extension Office
819 Cook Ave., Huntsville, AL 35801
Phone: 256-532-1578 e-mail: tricountymastergardener@gmail.com
Note: Accepted applicants will receive a letter in the mail with instructions to complete the required background check