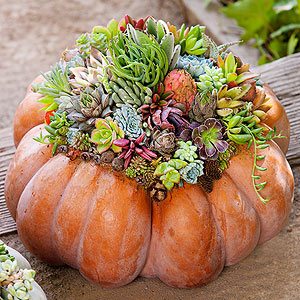 The Lunch & Learn series on the second Wednesday of each month, February through November, is sponsored by Morgan County Master Gardeners, Alabama Cooperative Extension Service, and Decatur Parks and Recreation.  Seminars are held at the Aquadome unless otherwise noted. The seminars begin at noon and you are encouraged to bring friends and your lunch and/or a beverage.  No reservations are necessary.

As with everything else this year, our Lunch & Learn seminars were cancelled.  'The Aquadome meeting rooms have been closed since March.
February 12 — Living Off The Land — Mark Kolinski
March 11 — Setting Up An Irrigation System — Tim Crow
April 8 — Home Garden Integrated Pest Management — Dr. Ayanava Majumdar 
May 13 — Herbs 101 — Pam Price and Doty Henry
June 10 — The Way to Grow Hosta — Susan Webb
July 8 — The Living Art Bonsai Society — Phil Terry
August 1 — Getting Started With Gourds — Katie Westmoreland
September 9 — Christmas Tree Farming — Roger Schwerman
October 14 — 1818 Farms — Natasha McCrary
November 13 (Friday) — Feral Hogs & Other Invasive Speicies in Bankhead Forest — Andre Baril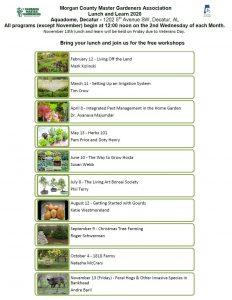 The Lunch & Learn Chairman is Pat Byrnes.
If you have suggestions for future programs please let us know — email