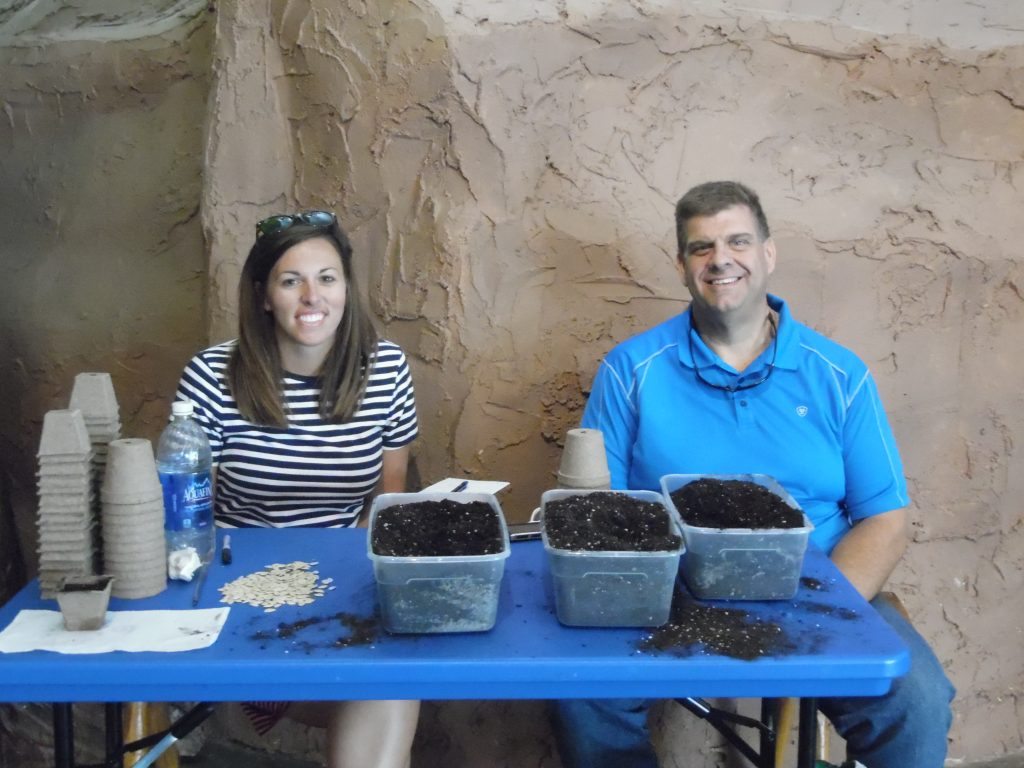 Visitors to CHOM(Children's Hands On Museum) in Tuscaloosa got a treat in June.  County Extension Agents Neal Hargle and Kellee Lassiter were there to help children plant a pumpkin seed.  The kids got to put dirt in a peat pot, push in the seed, water the pot, and take their pot home to plant.  Hopefully, children will be able to grow their own pumpkin just in time for Halloween.
It was such a fun activity to plant your own pumpkin.  Thank you CHOM and Tuscaloosa County Extension Agents.  And, I get to help Andrew plant his pumpkin at my house, I'm so excited!
Tuscaloosa Master Gardeners would also like to welcome Kellee to the Extension Office where she will serve as the 4H Regional Agent.
---
A belated congratulations to TCMG Plant Sale Chairman Sybil Phillips for her hard work and for the very successful Tuscaloosa County Master Gardener plant sale.  Sales exceeded our expectations and the TCMG horticulture scholarship will be fully funded this year.  Following are pictures taken at our plant sale.
---
From Southern Living, "Gardening Checklist"
June/July
Water―Pay attention to hanging baskets and containers, because they dry out more quickly with the warmer temperatures. Irrigate plants at dawn and dusk to reduce water loss from evaporation. As you make additions to your garden, you will need to water them more than established areas.
Houseplants―Place houseplants outside in a shady location to enjoy the fresh air and rejuvenate. Water regularly, and feed with an all-purpose (20-20-20) water-soluble fertilizer to encourage growth.
Mulch―Apply extra pine straw or shredded bark mulch around newly planted trees and shrubs to better transition these plants into your garden. The extra mulch will reduce water loss and heat stress to the new roots.
Lawns―Raise the cutting height of your lawnmower 1 to 1.5 inches to help your grass survive drought and heat. Tall turf shades the soil, slows evaporation, and reduces weeds.
Birdbaths―Relocate birdbaths to a shaded spot to slow evaporation and keep water from becoming too hot. Placing the bath near a small tree or large shrub provides shelter for the birds and encourages use.
---
Website statistics for the last 30 days?  We've had 2,292 visitors….AMAZING!