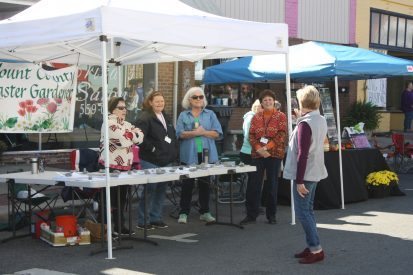 The Blount County Covered Bridge Festival is held each 4th Saturday in October each year.  This festival is well attended and the venue was open for many arts and crafts, food vendors, non-profits, vintage automobiles, music and everything in between.  The highlight of the festival is the tours of the Blount County Covered Bridges.  There are three bridges remaining and used daily by locals and visitors.  The Horton Mill bridge is located off Highway 75N above Oneonta and is the highest covered bridge over water in the US.  The smallest of the three bridges is the Easley Bridge located off 231 N of Oneonta and my favorite bridge, the Swann Bridge is located off Highway 79 N near Cleveland.  The Swann Bridge crosses the Locust Fork River and is surrounded with beautiful native plants and flowers.  Located downstream of the class five rapids that the river is known for the river is really enjoyed by the kayakers.  Upstream of the bridge is a favorite takeout for kayakers and under the bridge is a wonderful place for a picnic or place to cool off in the stream.
The Blount County Master Gardeners set up an informational booth and provided information and reference materials to the many people that stopped by to visit and ask questions.  No we were not giving out rocks but they did hold down the many pieces of literature that we had for the people to enjoy.  Saturday  morning was a brisk 41 degrees but by midday it was very comfortable and thanks to the many Master Gardeners that came and worked in the booth.
The festival has just about everything that you would need or want from live music, solar demonstrations, Friends of the Locust Fork River, hot rods and yes there was a GTO with 3 deuces, a 4 speed and a 389 if you remember the song.  The Blount County Cattlemen's Association was there selling those great ribeye sandwiches they are known for.  Overall it was a fun and educational day. If you missed it remember and come next year.