This month many flowers and perennials are looking their best. Enjoy the flowers and get those annuals and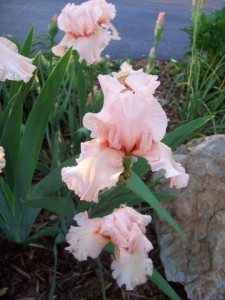 vegetables planted. Many iris varieties are blooming this month and come in a variety of colors including a peachy pink.

Shrubs–Newly planted shrubs need extra care now and in coming weeks. Don't forget to water them.
Roses–Spray for insects and diseases. Fertilize monthly based on soil test. Container-grown plants in flower may be planted now. Prune climbing roses after the first big flush of flowering.
Bulbs–Summer bulbs started in containers can be planted now. Don't remove foliage from spring flowering bulbs. Do not let seedheads form on tulips and other spring flowering bulbs.
Vegetables–Plant seedlings of tomatoes, peppers, eggplants, sweet potatoes, vegetable seeds.
Source: Alabama Cooperative Extension System
Alabama Gardening Calendar