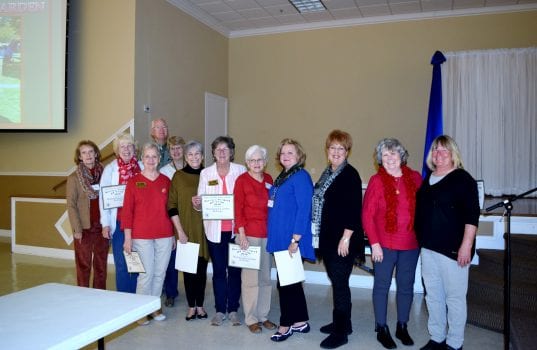 Chilton County Master Gardeners held their Awards program this year at the February meeting.  Refreshments and decorations were provided by the members, with a Valentine theme.  The Helpline Top Hours were: 4+ Days – Pat Farmer(Chairman), Sarah Saunders, Lanell Baker, & Ann Moore; 3+ Days – Bonnie Hairrell.  The Top Hours Category was awarded to: Harriett Jackson, 905.50, Audrey Giles 581, and Alan Reed, 480.50. The Top CEU hours went to Jimmy and Mildred Knowles with 46.50.  The Service Project of the Year was the Demonstration Garden Redesign. The Master Gardener of the Year award went to Audrey Giles.
Silver Stars were awarded to Bob Bates, Paula Blevins-Russell, Lamar Giles, Kimberly Lynn, Anita McGee, and Ann Moore. Gold Stars were awarded to Treasia Bennett, Linda Hays, Lee Walters, and Wally Walters. A Gold Badge was awarded to Alice Broome (1000+ hours), and a Platinum Badge to Harriett Jackson (2000+ hours). The badges themselves will be presented at the AMGA conference.
The program was presented by MG Harriett Jackson on Butterfly gardening. Old and new business discussed was the upcoming Water Festival, items needed for Silent Auction basket for the AMGA conference, advisory council update, correctly reporting hours to service report site, fundraising ideas, upcoming tours, walking trail to be built at Minooka Park, propagation class at Petals, upcoming "Ask a Master Gardener" days at Garrison's Farm and Home Supply, progress of 2017 intern class, update on registration for AMGA conference in Huntsville in May,  and CCMGA being FIRST association in Alabama to use the e-newsletter! Here's a SMILEBOX slideshow of photos from the program that day.