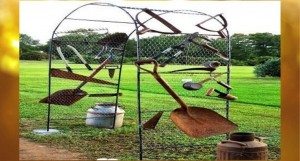 By Sondra Henley
A "One of a Kind Arbor" is being constructed at the Chilton County Master Gardener Association's Demonstration Garden located on the Chilton Research and Extension Center site. The arbor sides are 2 ft. wide and it is about 8 ft. tall. We plan to cover the rebar and chicken wire structure with as many rusty farm and garden tools as we possibly can.
If you would like to donate your rusty discarded tools to be included on the arbor, items are being accepted at two locations:
The Chilton County Extension Office located at 504 1st Ave, Clanton, Alabama
The Chilton Research and Extension Center located off of Highway 29. Place items in the garbage can located on the carport of little red brick house. The can is marked "GARDEN ITEMS".
 Please do not donate anything that you want returned.