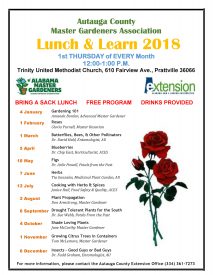 The Autauga County Master Gardeners Association will hold its Lunch & Learn meetings in a new location in 2018! Please review the attached schedule: 2018 ACMGALL Full Page Flyer
To accommodate growing attendance numbers, the Autauga County Master Gardeners Association Lunch & Learn program is being moved to a new location!
On the first Thursday of every month, the 2018 Lunch & Learn programs will be held at Trinity United Methodist Church, 610 Fairview Avenue, Prattville, AL 36066, 12:00 p.m. – 1:00 p.m. These free programs  are open to the public. Registration is not required.
Participants are encouraged to bring a sack lunch to enjoy as they learn about such topics as: shade loving plants, growing citrus trees in containers, drought tolerant plants for the South, and much more. The first meeting of 2018 will be held on January 4th, and the topic is "Gardening 101".
Please view the attached schedule for meeting topics and speakers, or you may contact the Autauga County Extension Office at 334.361.7273 for more information.