When strawberries are in season and available locally  it is time for a Strawberry Pie. So head out to a U-Pick, Farmer's Market or grocery store and get some yummy strawberries.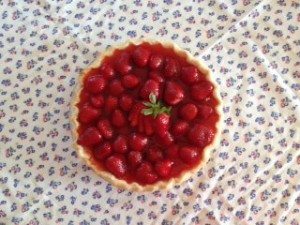 1 baked pie shell
1 cup sugar
3 T. cornstarch or flour
4 T. dry strawberry gelatin
1 quart fresh strawberries,(Chilton County Strawberries!)
Mix dry ingredients; add boiling water, bring to a boil. Chill until cool. Add whole or sliced strawberries. Pour into baked pie shell and chill several hours. Serve with whipped cream if desired.
Recipe and picture posted with permission of Trisha Williams