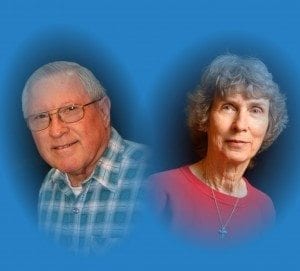 Chilton County Master Gardeners lost two long time members in 2015. Thomas Edward (Ed) and Wilma Jean Simmons were part of the 2000 Chilton County Master Gardener class and were active members of CCMGA for thirteen years. They participated in many Master Gardener activities including propagating plants, working plant sales, and helping with the Demo Garden. They volunteered to pick figs and cut fruit for the annual CREC Farm, Home and Wildlife Expo.
Ed was a familiar figure at the ACES Peach Producers Meeting and the ACES Vegetable Marketing Program for Growers Meeting where he helped with set up and take down. He coordinated fig pruning between CREC and Master Gardeners. He taught many of us when and how to propagate fig trees. He served two years as CCMGA treasurer.
Wilma could be counted on to help in a variety of ways such as preparing plants for sales, packing seeds, preparing fruits and desserts for the CREC Expo, and the annual planting of the beautiful flowers in downtown Clanton.
CCMGA member Renee` Powers remembers them as having gentle sincere spirits and that it was always a pleasure to work along side them on any project.
Ed and Wilma quietly contributed their talents to CCMGA and were always willing to show up and help. CCMGA is proud that they were members of our Master Gardener family.
Visit Martin Funeral Home to read their obituaries and learn more about their interesting lives.