Several Master Gardeners requested the recipe for Heavenly Cake, a sheet cake with pineapple, that was provided by Trisha Williams at our May Plant Swap.
Heavenly Cake
1/2 total batter from a yellow cake mix, mixed according to box directions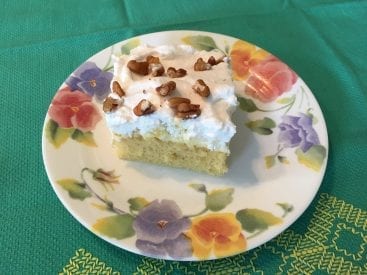 (remainder can be made into cupcakes or a single layer for later)
1 –  3 oz. instant vanilla pudding
1  – 8 oz. cream cheese
2 cups cold milk-
15 oz. crushed pineapple, drained
1 large cool whip
1/2 cup chopped pecans, toasted
Grease and flour a 9″x 13″ pan. Preheat oven according to cake mix directions. Mix cake as directed on the package, pour approximately 1/2 batter into prepared pan. Decrease baking time as your cake will only be about 1/2 inch thick. Cool completely in pan. Blend pudding and cream cheese and milk (it will have some lumps). Pour over the cake and let set for 5 – 10 minutes. Spread pineapple over the pudding mixture. Spread cool whip over previous layers and sprinkle with nuts. Must be kept refrigerated.