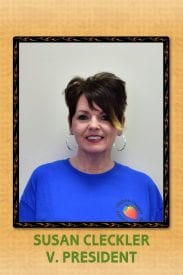 Well it is that time again, time for the annual Master Gardener Class!
My name is Susan M Cleckler and after meeting my husband, JC Cleckler, I moved to Chilton County. I have lived here for 10 years, and have always been interested in taking the Master Gardener class, and last year I decided it was time!
After 12 weeks of great speakers, "hands on" classes, field trips, and more information than you can imagine, I cannot say enough about this program. Everyone that takes this class walks away with more knowledge than they came in with. And, now, after attending the class and volunteering for 50 hours, I am a Certified Master Gardener. If you want to learn about vegetable gardening, flower gardening, fruit trees, composting, soil conditions, garden pests or lawn problems, etc. this program will not disappoint. Also, there is an Advanced Certificate in specified areas that you can work toward.  It is hard for me to say what my favorite part of this program was, because all of it was so GREAT! I didn't want the class to end because of the camaraderie and friendships that were made during this special class time.
Master Gardeners work with the Chilton County Extension Office and the Chilton County Research and Extension Center. With the local office coordinator and agents, we help communities with information on gardening, landscaping, community projects, civic projects as well as educational activities. The Master Gardeners have a Demonstration Garden at the Chilton County Research Center that is for all to enjoy and learn from. As one of our fundraisers, we have a Christmas Home Tour that showcases area homes decorated for the public to see and we also have an annual plant sale.
For more information on the Master Gardener Program,  go by the Chilton County Extension office located at 504 1st Ave., Clanton, AL 35045, or call 1-205-280-6268.
To hear great speakers, join us on the second Tuesday of each month for the Chilton County Master Gardener Association meetings, held at the Jemison City Hall, 9:00 a.m. to 11:30 a.m. Programs begin approximately 10:00 a.m.
Here is a Smilebox slideshow of photos of Susan during her internship.