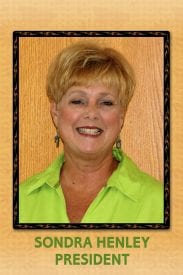 PRESIDENT'S MESSAGE FOR 2018
Thank you for putting your trust in me to administrate and lead another year. Having met with the Board to review the activity opportunities and the 2018 proposed budget, CCMGA's progress amazes me.
In 2006, twelve years ago, I took the MG Class. I too wondered how and where I would achieve those 50 certification hours. When one reviews the Activities List you can understand why we say we partner with ACES. They need us and we need them. ACES will arrange education in QuickBooks, Word, Excel, Power Point, Publisher and Photos for us this year. CCMGA has members that are MG representatives on various committees associated with ACES and Chilton County.
Not only is our partnership with ACES important but our CCMGA projects are too. This year we plan to put a permanent cover over the Shade Garden at the CREC site and finish Phase 5 at the Demo Garden located at the Extension Office. Phase 5 will be located at the backside of the office building. This bed will house hydrangeas and other plant material.
Our commitment to host the 2019 AMGA Conference will cost us time and energy as we begin to put plans in place. We will be building tabletops and stenciling them with checker boards. Contracts must be signed with food and other vendors. Silent Auction items must be gathered and signage made. Speakers must be scheduled. Decorations must be planned and design executed for each conference activity.
Along with our projects, we have fund raisers to organize. This spring we will host a "Garage Sale Type" event including a plant sale. As you bring in your new, don't forget to bring us your old. Items that are gently used and in good repair are needed, including clothes and shoes. Small appliances, books, curtains, wall décor, etc.
CCMGA is as busy as the bees we all want in our gardens. I hope you will join me in expectation of this new year.
Sondra Henley, 2018 President CCMGA