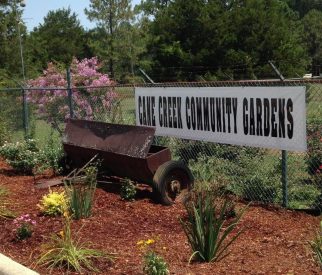 FORMER ARMY SITE TRANSFORMED
By BILL EDWARDS, AP
Posted: 2007-09-10 15:34:55
ANNISTON, Ala. (AP) – Across a side road from Long Leaf Lodge at McClellan lies about four fenced acres containing land and buildings where dummy weapons and other accoutrements of Army training were fashioned decades ago.
But over the past several weeks, in a virtual transition from swords to plowshares, the site – called Cane Creek Community Garden – has become home to zinnias, sunflowers, cosmos, Confederate roses and angel trumpets, among other species. Some have found a new home at the Anniston Museum of Natural History, while others are destined for the outdoor classroom at Wellborn Elementary School. Although it's not ready to accept plants that produce food for public consumption, the community garden at McClellan is enjoying a good start as a nursery for ornamental plants.
Calhoun County Extension Coordinator David West is pleased because the project gives his department its very own dirt to dig in for instructional purposes. "It's a great asset for us and a great asset for the community because we have a site for education programs," West said. Rather than talk about the concept of drip irrigation, for example, "we can go outside and try it." Earlier plans to allow private individuals to grow food in the garden are on hold pending additional tests on the soil to make sure no metallic poisons exist. "We'll do some more testing as well so we can be as certain as we can be," West said. "We hope to know more by next spring" based on those tests.
"In the meantime," he added, "we're going to still use the site for educational activities." Details on public usage of the garden, including policies and fees, will be worked out later via a committee drawn from the Extension office and its master gardener program, West said. Reclamation of the long-unused space began in June through the combined effort of the Joint Powers Authority (the land's legal owner) the Calhoun County Commission, the Extension Office and its Calhoun County Master Gardener program. Additional labor and material was contributed by the county road department and the landfill.
The effort was actually twofold, because in addition to the land itself, a general-purpose storage and utility building thought to date from the early 1940s has been reclaimed from the ravages of disuse. Calhoun County Environmental Enforcement Officer David Pirritano, who led the effort, points out instances where the restoration retained original features – such as light fixtures – or used planks from other fort buildings believed to have been built at the same time. Concessions to modernity include new wiring and new windows. An outdoor but roofed portion of the building already has been used for a master gardener class in drip irrigation. Auditorium chairs taken from the former McClellan movie theater provided seating for the attendees.
The three plots that make up the garden itself are the domain of Tammy Shipp, a White Plains native and master gardener hired to oversee the garden's daily activity. A grant from Auburn University to the Extension office pays her wages. These days, Shipp is happy about her pumpkins, dismayed by her cosmos. "They should be a lot larger, but we didn't have water out here for the longest time," she said, gesturing to a patch of the pinkish-purple flowers.
Irrigation lines for city water were installed in July, saving many of the plants from desiccation. As for the familiar fall gourds, they are thriving in a space that until relatively recently was a tar-and-gravel parking lot. Ten rows of white plastic hold in moisture and fertilizer to nourish about 20 plants in each row. They're known as 60- day pumpkins for the time it takes them to mature. Shipp reported Friday afternoon that she already can see the beginnings of a pumpkin, about a fingertip large, on one plant. Eventually the pumpkins will be harvested and painted by children at an Extension fall festival Oct. 13.
Over time, expansion plans for the site include the possibility of a greenhouse, compost bins and a garden specifically for children, said Shipp. Extension Coordinator David West says he'd like to hear from any Army retirees or their families who have knowledge of "Building 7," the structure restored in conjunction with the Cane Creek Community Garden. He can be reached at 237-1621.
Information from: The Anniston Star, http://www.annistonstar.com/   Copyright 2007 The Associated Press. The information contained in the AP news report may not be published, broadcast, rewritten or otherwise distributed without the prior written authority of The Associated Press.